This post shares with you the 20 Best Countries in the World to live in. In fact, it's a "king of lists" that shares the top 20 Countries in the World with you.
Well, it's entirely subjective when defining a country as being the best.
There are several factors, such as.
Happiness levels
Quality of life
Overall financial stability
Open for business
Access to food and housing
Quality education
Health care
Environmental quality
Cultural influence
Job security
Individual freedom
Political stability
Moreover, many other factors, as well
However, we endeavor to make this list as authentic as possible.
So, we have based this list of best countries to live in on the findings of U.S. News & World Report that have released their ranking of the best countries in the World. They surveyed over 20,000 people across the globe, evaluating countries on 65 metrics.
We use this data and present to you the top 20 best countries in the World. Let's get started.
20 Best Countries to Live In
1: Switzerland
This mountainous Central European country ranks No. 1 on the top 20 countries list. It ranks in the #1 spot because of its wealth, diversity, low unemployment, and its overall remarkable landscape.
In fact, Switzerland has been ranked as the best country in the World for 2020. It is one of the World's wealthiest nations. It has a strong economy with low corporate tax rates. In addition, it offers political neutrality and has diverse cultural makeup.
Moreover, Switzerland has a high number of Nobel Prize winners and registered patents. Switzerland's life expectancy is the highest in the World. Another interesting fact about Switzerland, the Swiss people intake the most chocolate per capita in the World.
2: Canada
Canada is the second-largest country in the World. It takes up about two-fifths of the North American continent. The country is sparsely populated. It has a reputation for welcoming immigrants. This friendly nation is full of national parks. It has the World's longest coastline.
Canada offers a high standard of living because of its strong economy. It is a hi-tech industrial economy. Canada is the World's fifth-largest oil producer. It runs the national policy of multi-culturalism. Most of its 35.5 million residents live within 125 miles of the U.S. border.
3: Japan
Japan is an East Asian country that is made up of four main islands. Most of Japan is covered heavily by mountains and wooded areas. However, the country's roughly 126 million people go on to lead a distinctly urban lifestyle. Japan is culturally influenced by its neighbors. At present, a country is a blend of ancient traditions and broad aspects of the Western lifestyle.
Japan is one of the top countries in technology and education. It is highly literate and technologically advanced. In fact, Japan is the third-largest economy in the World. It is one of the biggest producers of cars, electronics, and steel.
Apart from these hefty accolades, Japan is firmly rooted in its cultural traditions in food, arts, gardening, and sports. Moreover, they have one of the longest life expectancies in the World. The locals here live on an average of 85.3 years old.
4: Germany
Germany is among the biggest economies in the World. It's also a significant cultural hub. In fact, many inventions and discoveries are credited to Germany. It has a skilled and affluent workforce. It's the birthplace of many notable cultural figures. Germany is best known for its telecommunications, health care, and tourism sectors.
It's the most populous nation in the European Union. Its role in the international community has grown steadily since reunification. This Central European country borders nine nations. Germany has a diverse landscape that includes the northern plains that reach the North and the Baltic seas to the Bavarian Alps in the south.
5: Australia
Although Australia is famous for its Kangaroos and the Great Barrier Reef, it might be surprising for you that it is one of the safest countries in the World. Moreover, Australia is economically stable and has a well-developed health system. It is a wealthy nation.
The quality of life here is superb. It has a high life expectancy. Its major cities score high in livability. It is thinly populated for such an enormous landmass. The country also includes some islands such as Tasmania.
6: United Kingdom
The United Kingdom has a significant global influence. Its best known for the Royal Family and its ancestral past. The country has a widespread cultural impact. It has plenty of contributions to literature, science, and technology.
The country has stunning architecture and comes with many historical landmarks. It has large banking and tourism industries. London is a major international finance center. It is a highly developed nation.
The country exerts considerable international influence in the fields of economics, politics, and science. It is located off the northwest corner of Europe. The country includes the island of Great Britain, containing England, Scotland, and Wales, and the island of Ireland.
7: United States of America
Globally, the U.S. is the most powerful country in the world, politically as well as economically. It's the World's most dominant military power. However, it faces racial tensions, income inequality, and gun violence, which debars it from appearing in the top five of this list. It has widespread cultural influence.
It is home to some of the best universities in the World. This is because it's such a vast and populated country.
8: Sweden
The Kingdom of Sweden is one of the largest countries in the European Union by landmass. It has been flanked by Norway to the west and the Baltic Sea to the east. The country is committed to upholding human rights.
Here, the emphasis is on equal wealth distribution. The country is well known for its free healthcare and college education.
Overall, life is good in Sweden. They have one of the longest life expectancies in the World. The government spends vast sums of money on public services. The country is stunningly beautiful.
9: Netherlands
The Netherlands is one of the densely populated countries in Europe. It's a coastal lowland freckled with windmills. It's famous for the thousands of bridges that connect the country. It's a fabulous place to watch tulips blossom. You can also explore the canals and visit ancient windmills.
The country is also well known for its cheese-eating habit. It's the leading exporter of agriculture, they have a reputation as a tolerant society. It's the first country in the world to legalize same-sex marriage.
10: Norway
The United Nations has listed Norway as one of the best countries to live in. People here live to be upwards of 82 years old, on average. Norway has a wonderful healthcare system in place which is funded by the general public.
On a lighter note, Norway is home to the World's longest road tunnel. It's one of the wealthiest nations in the World. It's the World's leading petroleum exporter. Higher education is mostly free. Norway has a rich literary tradition.
It is the westernmost country in the Scandinavian Peninsula. The country is made up mostly of mountainous terrain. Most of its population lives in the south, around the capital, Oslo.
11: New Zealand
New Zealand is a small but beautiful country located at the bottom of the World. It's an island nation in the Pacific Ocean southeast of Australia. There are impressive mountain ranges and empty beaches scattered throughout the country.
It is one of the best countries to experience wildlife. Here, the quality of life is superb. It is an excellent country for adventure. The country has made a significant investment in education. It's also a nuclear-free zone. Kiwis is a common term used by the people of New Zealand.
12: France
France is a wealthy and high-income nation. It is one of the largest economies in the World. It has a large and flourishing tourism sector. France is well-known for its widespread cultural influence.
It's also famous for fine cuisine, historic architecture, and high fashion shopping. France has contributed a lot in the fields of arts, commerce, and science. To buy a property and to live in France is a dream for many people. There are more pros than cons to living in France
13: Denmark
Denmark is one of the best countries in Europe. In fact, Denmark is one of the happiest countries in the World. It boasts of affordable housing, a unique health care system, and high quality of life. Here, jobs are plentiful. The crime rate is abysmally low.
However, Denmark has one of the highest income tax rates in the World. Still, the government is stable, transparent, and progressive. Danes are among the happiest and most satisfied people on earth. Everyone benefits from a well-functioning welfare system, which provides free education and healthcare, among other things.
14: Finland
Finland is one of the happiest countries in the World. It's a prime place for watching the Northern Lights. It's an international leader in education. Finland ranks high with regard to the quality of life.
Civil rights adhere to the utmost. Finland grants absolute freedom of the press. It's high on international trade, which makes up one-third of its GDP. It's the first country in the World to legalize universal suffrage.
15: China
China has made its place in this list of 20 best countries globally because of its rapid economic development. The country exerts a lot of global influence. However, much improvement needs to take place in terms of its human rights and tightly controlled politics.
Tourism flourishes in China, which happens to be one of the most visited countries in the World. There is much to do and see here, including the Great Wall of China, the Forbidden City, and the Giant Pandas. However, many things are banned here, such as fireworks, gambling, and Christmas.
China is the highest populated country in the World. It's the World's second-largest and one of the fastest-growing economies in the World. Its economic growth has reduced the number of people living in poverty.
16: Singapore
Singapore is one of the World's wealthiest nations. It is famous for its safety and security. Singapore boasts of a low unemployment rate. It is home to one of the World's busiest ports. Singapore has a booming electronics and pharmaceutical sector.
Singapore is a relatively new country and was founded as a British colony in the 19th century. It became an independent nation in 1965. Today, Singapore has become Asia's melting pot of cultures. Five languages are spoken here, such as Mandarin, Singlish, Tamil, Malay, and English.
Its cuisine is a blend of Chinese, Indian, and Western traditions. It means the "Lion City." There's much to celebrate here, including the food festivals, sporting events, or art exhibits.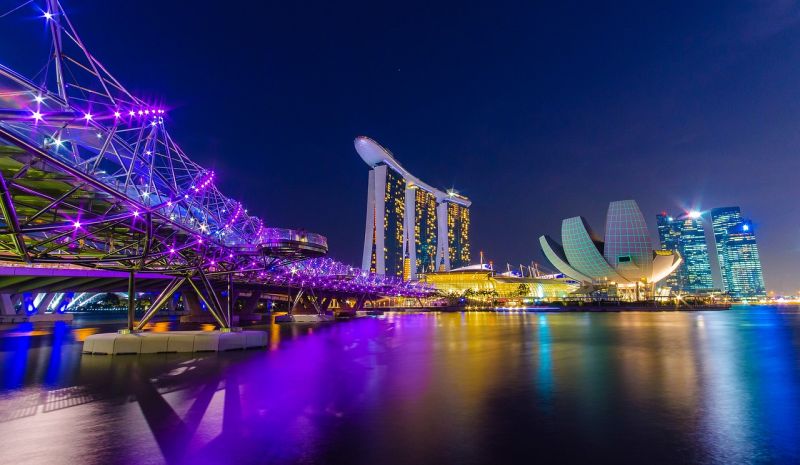 17: Italy
Italy is one of the wealthiest nations in Europe. It's a tourist hub and sees over 40 million tourists each year. Italy is famous for its ancient history, pebble beach's, active volcanoes, top-quality shopping, and even the fine cuisine in the World.
Italy exerts a vast cultural influence. It is well known for its pizza and pasta. Plus, there is much to explore in Italy.
18: Austria
Austria is famous for the mighty Alps. It's a culturally rich country and high-income parliamentary democracy. It's high on safety and security. It is located in the heart of Central Europe.
The modern Austrian state came into being after the two world wars of the 20th century. Austria's culture is mainly influenced by Germany, which happens to be its neighbor and leading trading partner. They have a high standard of living. Austria has a strong economy.
19: Spain
Spain ranks above the average in health status, environmental quality, work-life balance, social connections, income and wealth, housing, and personal security but below average in civic engagement, education and skills, jobs and earnings, and subjective well-being.
Spain is a dynamic and wealthy nation. There is plenty to do and see in Spain, like the Flamenco, a tomato war, or running with the bulls. So, Spain happens to be a big adventure country. It boasts of a fun, scenic, and friendly atmosphere. You can eat paella, drink sangria, or dance at a discotheque.
20: Hong Kong
Hong Kong has become a major financial center in the World. Here, you can experience a high quality of life. It has very low taxes, which makes Hong Kong attractive for doing business. Moreover, the crime rate is very low despite being a very densely populated urban area.
Hong Kong is a perfect blend of East and West cultures with colonial buildings. Hong Kong is also famous for its ancient traditions and festivals. It boasts of modern public transportation and high glass skyscrapers.
Here, you can indulge yourself in countless things. Well, with this, we have reached the end of this post on the best countries in the world to live in. We hope that you would have liked this presentation. Thank you for visiting our website. Please do share this post across your social networking channels.