Size does matter. And this is certainly true with ships. Today, we share with you 15 Biggest Ships in the World.
Whenever we think of big ships, we imagine the Titanic.
No doubt Titanic was one of the biggest ships in the world, but we should know that there are others, as well.
So, we thought of presenting the top 15 Biggest Ships in the world that have journeyed on our seas and oceans.
If you are wondering which are the biggest ship in the world is, then just read on.
In fact, the largest ships are in the form of oil tankers, cargo carriers, and cruise liners. They are true marvels of engineering.
They are mega machines that are the true "Kings" of the seas and oceans.
Well, there's a fact that will surely amaze you.
Ships contribute to over 90% of the world's transported goods, not to mention people.
Just the sheer sight of a ship grips you in awe and wonder.
Such is the gravity of these supertankers.
You may like: 10 Biggest Airports in the World
In fact, the construction process of ships involves a lot of designing and manufacturing techniques.
The engineering behind these mammoth machines is just spectacular.
They require massive propulsion systems. Most are run on diesel while there are others that are nuclear, wind, or even solar powered.
Some use large diesel engines while other naval vessels make use of nuclear propulsion systems for remaining at sea for months on end.
Ships come in various sizes and are used for different applications.
Different ships are used in the transport of different things like oil, military people & aircraft, imported/exported goods, and civilians.
And the cost of ships runs into millions of dollars.
However, these mammoth machines are not so eco-friendly.
Shipping contributes to nearly 1.4 billion tons of carbon dioxide.
That said nowadays they are being fitted with fuel-efficient engines.
The ships that have been ranked on this list are according to their maximum vessel length (LOA) measured between aft and fore at extreme points.
The deadweight tonnage (DWT) and gross weight tonnage (GWT) are also specified for a better understanding of the ship's specifications.
You may like: 10 Tallest Buildings in the World
So, let's move ahead and get to know about the largest ships in the world.
Here's the list for you:
World's Top 15 Biggest Ships
15. The Club Med 2
The Club Med 2 happens to be one of the largest sail ships in the world.
It was launched in Le Havre, France (1992).
The ship is 194 m (636 ft) in length and has a tonnage of 14,983 tons. It can accommodate 386 passengers and 214 crew members. It can attain a cruising speed of 10-15 knots (19-28 km/hr).
The Club Med 2 currently operates as a cruise ship. In summers, the Club Med 2 sails across the waters of Mediterranean and the Adriatic Sea, and in the winters, across the Caribbean Sea.
It has five masts positioned electronically for maximum efficiency. In addition to this, the ship has seven computer-operated sails with two electric motors. So, with its hybrid system, the ship can alternate between fuel and clean energy.
Plus, the ship offers various recreational activities such as the ballroom dancing, water sports, music shows, and plenty more.
14. Q-Max ships
The Q-Max ships happen to be the largest membrane type liquefied natural gas carriers. They span 345 m (1,132 feet) in length and have a gross tonnage of 162,400 GT. They can travel at 19.5 knots (36.114 km/h). The Q-max ships possess a capacity of 266,000 cubic meters.
There are as much as fourteen Q-Max ships in circulation.
The names of the Q-Max ships are as follows:
Al Mayeda, Umm Slal, Al-Ghuwairiya, Al Samriya, Mozah, Shagra, Zarga, Aamira, Al Mafyar, Bu Samra, Lijmiliya, Al Dafna, Mekaines, and Rasheeda.
The ships have been built by Samsung Heavy Industries, Daewoo Shipbuilding & Marine Engineering, and Hyundai Heavy Industries.
The first ship (Mozah) was completed in 2007.
All the Q-Max ships operate under the Qatari gas transport company Nakilat.
They are the largest ships to dock at the LNG terminals in Qatar and hence they have the "Max" suffix.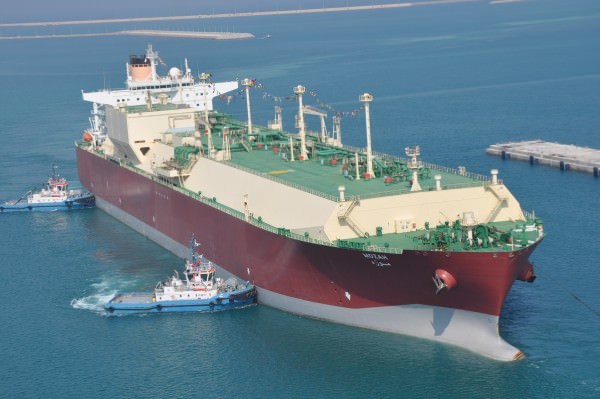 13. RMS Queen Mary 2
RMS Queen Mary 2 is the world's largest transatlantic ocean liner. It operates between Southampton and New York. It is also being used for the annual world cruise as a passenger cruise ship.
The RMS Queen Mary 2 measures 345 m (1,132 ft) in length (stern to bow length). It has a gross tonnage of 148,528 GT. It can accommodate 2620 passengers and 1253 crew members. It can attain a speed of 30 knots (56 km/hr).
In fact, Queen Mary 2 is the largest Ocean liner ever built.
It's the only transatlantic ocean liner in service.
12. Oasis of the Seas
Oasis of the Seas is one of the largest cruise ships in existence that has been made by the Royal Caribbean Company.
It is one of the biggest cruise ships in the world.
It was built in 2009.
Oasis of the Seas is part of the 'Project Genesis' along with Allure of the Seas and Harmony of the Seas.
This cruise liner is 360 m (1181 ft) in length.
It can accommodate up to 6296 passengers (max) along with its 2394 crew members.
It is one of the fastest at 22.6 knots (41.9 km/hr).
It has a gross tonnage of 225,282 GT.
It offers enough recreational activities to keep you occupied.
It has two FlowRider surf simulators, a zip line (25 m across and nine decks high), swimming pools, a water park, a full-sized basketball court, and two 43 feet high rock-climbing walls.
The Oasis of the Seas costs nearly US$1.24 billion.
In fact, it is the most expensive commercial ship ever built.
It's a spectacular experience to be a passenger on the Oasis of the Seas.
And it's very popular.
11. MS Vale Brasil
This ship is primarily designed to transport iron ore from Brazil to European and Asian ports in bulk amounts.
Vale Brasil is the largest bulk carrier in the world which is owned by the Brazilian mining company Vale do Rio Doce (VALE).
It is among the longest ships currently in service.
It was launched in December 2010.
This ship is currently in service measuring around 1188 feet long (362 m) and having a gross-weight tonnage of 199,000 tons.
It made its first voyage back in May 2011 and is continuing to operate from one country to another.
Vale can reach speeds up to 14.9 knots and can bear 400,000 tons of deadweight tonnage.
In fact, MS Vale Brasil is the second largest ship (currently in service) by deadweight tonnage. It is second only to the TI class supertankers that have over 440,000 tons DWT.
10. Jarmada Class
Jarmada Class is an oil carrier that made its maiden voyage in July 1975 to different parts of the world.
This ship can travel at a maximum speed of 16 knots and is 1225 feet long.
After 32 years of successful service, Jarmada Class is no longer in operation since 2008.
The deadweight tonnage of this massive ship was 380,000 tons and was considered the world's most powerful, biggest and strongest ship in its time.
At present, it is being used as a dumb storage tank barge.
9. Globtik Tokyo
Globtik Tokyo made its initial voyage in February 1973 and was among the biggest oil tankers of its time measuring 1243 feet long and weighing a massive deadweight tonnage capacity of 484,000 tons.
This ship could reach speeds up to 16-17 knots.
Globtik Tokyo remained in operation for thirteen consecutive years after which it was discontinued.
People enjoyed the view of a beautiful red and black color ship moving on the water. This red and black color combination truly enhanced its beauty.
8. TI Class Supertankers
The largest oil tankers that are still operated are the TI Class Supertankers built in 2002/3.
The class consists of the following ships: TI Asia, TI Africa, TI Europe, and TI Oceania. Here, "TI" stands for VLCC Tanker pool operator – Tankers International L.L.C.
Daewoo Shipbuilding & Marine Engineering constructed all these mega tankers in Okpo, South Korea in 2002/3 for the shipping company called Hellespont.
The TI range is 380 m (1247 feet) in length.
They have a tonnage of 234,006 GT and can travel at 16.5 knots (30.5 km/hr) fully laden.
The TI ships were originally named as Hellespont Alhambra, Hellespont Fairfax, Hellespont Metropolis and Hellespont Tara.
However, they were subsequently purchased by Overseas Ship holding Group (OSG) and Euronav NV in 2004 and were given their new names.
TI Asia and TI Africa have been converted into FSO oil storage vessels (2010). However, the TI Oceania and TI Europe are still in operation as ULCC's.
TI class supertanker Oceania is used in the transportation of crude oil. This ship has a deadweight tonnage capacity of 440,000 tons and has a maximum speed limit ranging between 16 and 18 knots.
TI Oceania is fully equipped with all the modern technologies to cope with obstacles in its way and help maneuver the ship with ease. At first sight, it looks like a giant iceberg floating on the waterbed as it measures around 1246 feet of length.
7. Emma Maersk
Emma Mærsk is the largest operational container ship at present. It is the first container ship of the eight-owned ships of A.P. Moller-Maersk Group and was launched back in 2006.
This ship can transport 11,000 20-feet equivalent units (TEU) or 14770 TEU depending on its definition.
It was built in 2006 at the Odense Steel Shipyard in Denmark.
This mammoth ship has been named after Emma Maersk, Maersk Mc-Kinney Moller's late wife.
The first voyage which Emma Maersk made was in August 2006 possessing 26 knots of top speed making it one of the fastest container ships.
The deadweight tonnage capacity of this ship is around 159,000 tons and measures 1305 feet in length. The maximum capacity reported by Maersk is 11000 TEU.
6. CSCL Globe
The CSCL Globe happens to be the world's biggest ship for container transport. So, it's the largest container ship.
It is one of the five (and the first one) 19000 TEU container ships ordered by China Shipping Container Lines (CSCL) in 2013.
It was purchased from Hyundai Heavy Industries and was deployed on the Asia-Europe trade loop.
It spans a massive length of 400 m (1312 feet) with a gross tonnage of 186000 GT. 77200 bhp electronically controlled engine propels the CSCL Globe.
5. Esso Atlantic
This ship has served as an oil tanker for 35 consecutive years of its operation.
Esso Atlantic has a deadweight tonnage capacity of nearly 516,000 tons and a top speed of 16 knots.
This ship was amongst the most popular and well-functioned ships of the world.
The length of this majestic ship is 1334 feet which is why it hits a high ranking in this post.
In 2002, Esso Atlantic was sold to Pakistan as scrap.
4. Prairial (supertanker)
Prairial is a supertanker that was built in 1979 and was the final vessel of Batillus supertankers.
This oil tanker has the honor of serving 34 years in the transportation of crude oil and merchandises over long distances.
Its deadweight tonnage capacity is 555,000 tons and has survived many bad weather conditions over the course of its operation.
Its length is around 1359 feet and can travel to speeds touching 16 knots at most.
3. Batillus
Batillus, like the Prairial, was a supertanker that carried oil around different parts of the world. It was made by Chantiers de l'Atlantique in 1976 for Shell Oil (French branch).
The final voyage of Batillus was from Vestnes to Kaohsiung (Taiwan) with the intention of scrapping it; the arrival date was recorded on December 28, 1985.
On an additional note, due to its low demand and usage, this ship was scrapped.
The deadweight tonnage capacity of the ship was nearly 554,000 tons and was able to reach speeds up to 16-17 knots. Batillus' length was measured as 1359 feet.
2. Pierre Guillaumat (Supertanker)
This ship, as the previous two, was also one of the four vessels of the Batillus class supertankers. The Pierre Guillaumat had been the largest ship after the Seawise Giant.
This ship was completed in 1977 and put in service straightaway.
This vessel was named after the founder of Elf Aquitaine oil industry (Pierre Guillaumat) who was also a French politician.
Due to low usage, the company experienced low profits and so decided to put it on hold at Fujairah anchorage.
One more reason for this step was the mobility issues due to its immense size.
Later in 1983, the Hyundai Corporation bought it as 'Ulsan Master.'
The top speed of this vessel is 16 knots, and its deadweight tonnage capacity is nearly 555,000 tons. The Pierre Guillaumat was measured as being 1360 feet long.
1. Seawise Giant
Seawise Giant hits the top spot in our rankings of top 10 biggest ships in the world. It's the largest ship ever built. This ULCC supertanker had the honor of being the largest self-propelled manmade object ever constructed.
With a massive 657,109 tons displacement, Seawise Giant is extremely heavy, heaviest of all ships. This ship was constructed in 1979 in Japan by Sumitomo Heavy Industries Limited.
It made its final journey in December 2009 where it was sold off to Indian shipbreakers.
This ship was able to reach speeds up to 16 knots and had a deadweight tonnage capacity of 564,700 tons.
In its 30 years of service, Seawise Giant gained the title of the Queen of seas and oceans. This majestic ship was 1504 feet long which undoubtedly makes it the biggest ship in the world.
That's all from us in this presentation on 15 Biggest Ships in the World. We hope that you enjoyed this post. Please share it on Facebook, Twitter, and Google Plus. We welcome your comments and suggestions.