What does it feel to see someone who looks like you?
You may get excited, awed, jealous, or simply go on to love that person. It's a feeling that you cannot hide and it overwhelms you.
It's a wonderfully amazing world. At Wondersify, we always pick up those stories that make you feel happy and excited.
Today, we have compiled a list of 25 People who look like Cartoon Characters.
We simply love Cartoon Characters.
Be it a small child or an old aged person, cartoon characters make you happy. They provide a moment for a good laughter.
After your day's hard work, when you switch on your television sets and watch your favorite cartoon characters performing mesmerizing acts, you simply forget all your worries and anxieties. It's a relationship that you hold close to your heart.
It's even more wonderful when you find someone who looks exactly like a cartoon character. The resemblance is something that cannot be ignored. Moreover, it's fantastically adorable.
Just for a moment imagine that you look like a cartoon character.
What's your life would be then?
People would watch you with big eyes. They would like to hug you, shake hands with you. You would become a celebrity.
Life would dramatically change for the better. And you would become a source of happiness for others.
The same goes with people who look like cartoon characters.
The uncanny resemblance they possess to a cartoon character is simply unforgettable.
So, here's the list of 25 People who look like cartoon characters. These people will certainly remind you of the cartoon characters whom they bear a resemblance.
Just have a look at these pictures, and you would be certainly reminded of your favorite cartoon characters.
25 People Who Look Exactly Like Cartoon Characters
1. Flash From Zootopia
2. Linguini From Ratatouille
3. Mrs Potato Head
4. Carl From Up
5. Mr. Burns From The Simpsons
6. Russel From Up
7. Johnny Bravo
8. Elsa From Frozen
9. Eggs From Boxtrolls
10. Consuela From Family Guy
11. Linda Belcher From Bob's Burgers
12. Peter Griffin From Family Guy
13. Merryweather From Sleeping Beauty
14. Andy From Toy Story
15. Hiro Hamada From Baymax
16. Louise
17. Lord Voldemort From Harry Potter
18. Aladdin
19. Cleveland from The Cleveland Show/ Family Guy
20. Velma – Scooby-Doo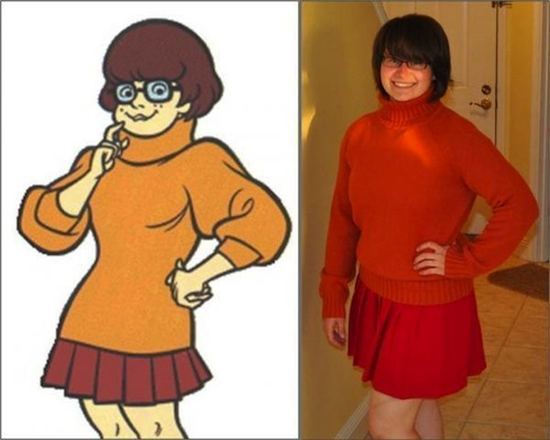 21. Ned from The Simpsons
22. Bobby Hill from King Of The Hill
23. Boo from Monster's Inc
24. Millhouse From The Simpsons
25. Dora The Explorer
We hope that you would have found the list of 25 People who look like Cartoon Characters really interesting. Do share your comments with us.