They are the ones sniffing out drugs or bombs, helping officers to find out missing people, or simply guarding their masters.
Yes, you may have guessed it.
We are talking about Police Dog Breeds.
Whether you see them or not, police dogs are everywhere.
In fact, any dog can be trained to be a police service dog.
However, there are some dog breeds that come out well as being police dogs.
Herein, we list out 10 Best Police Dog Breeds around the world.
Most of the time, we see police dogs in action-packed movies or in detective drama series on television. They are mostly portrayed as guarding their companion and sniffing outbuildings for substances.
Police dog breeds are more popularly referred as K-9 dogs.
They help out police officers and law enforcement agencies.
These dogs are studded with special character traits which make them suitable for police work.
Moreover, each police dog breed that we have featured here comes with their own unique abilities which qualify them for police.
They are into police work for many years. They are known for their hard work protecting their handlers and civilians.
These police dog breeds are imparted special training into police work so that they can easily sniff out bombs, narcotics, or bring down criminals.
They are regarded as the best dog breeds for police work. For example, the German Shepherds are known to be the most popular police dogs for many decades.
Here, we have compiled a list of police dog breeds that have served law enforcement services for a long time.
However, it's not an all-inclusive list as there are many more police dog breeds out there.
That said, we have made sure that you get to see the best police dog breeds from around the world.
In fact, these police dogs have a tough job to do as they go on to assist human police officers.
So, here's the list for you.
These are the best police dog breeds from around the world.
10 Popular Police Dog Breeds
10. American Pit Bull Terrier
The American Pit Bull Terrier is a recent entrant into the police departments as a police dog breed. It is only recently (in the last couple of years) that this dog breed has been used for police work.
However, nowadays more and more police departments are taking the Pit Bulls in. They are confident, fearless, fast, athletic, and sturdy. Primarily, they are used for detection and patrolling.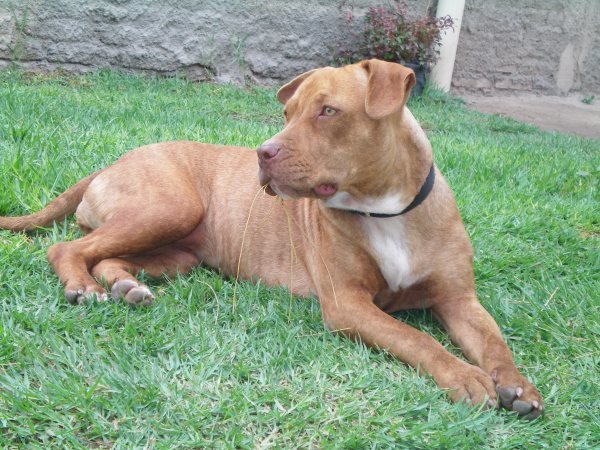 9. German Shorthaired Pointer
The German short-haired pointer is regarded as one of the best police dog breeds in the world. They are popularly known as the GSP's. They have been transitioned from being mainly a hunting dog to police work.
The German shorthaired pointer is enthusiastic, bold, and very intelligent. They have a keen sense of smell and are very easy to train. Moreover, due to their non-aggressiveness, sturdiness, and a strong willingness to please their owners, this police dog is very easy to work with.
8. Cane Corso
Cane Corso is regarded as the descendant of Roman war dogs. So, it's more than logical that the Cane Corso should be employed in police work. Cane Corso is a hardworking, strong, courageous, alert, and very intimidating police dog breed.
Moreover, the Cane Corso is known for its excellent protection and patrol work. They are increasingly being used as police dogs in the USA due to their adaptability and working attitude.
7. Bloodhound
The Bloodhound is ranked among the best police dog breeds in the world. They are characterized by large hung ears giving them rather a unique appearance. Its long face gives them a cuddly look. However, the Bloodhound is a powerful dog having a more masculine disposure.
On the training front, this police dog stands firm on the command of its instructor. So, they are much disciplined and easy to coach. However, the Bloodhound is basically a hunting dog and is known to hunt bigger things like deer and wild bores.
6. Boxer Dog
The Boxer Dog is another very powerful police dog breeds in the world. As it might be evident by its name, the Boxer Dog is more of a fighter dog. In fact, there are two types of Boxer dogs in the police department – the Schutzhund Boxer and the Deutscher Boxer. Both of these Boxer dogs have almost equal doggie personalities.
They are flexible, and agile, and can jump to amazing heights. Due to this ability, Boxer Dogs are often considered as Gymnastic types of hounds. Moreover, they are easy to train, and their flexibility is used as an advantage in police training.
5. Doberman Pinscher
Doberman Pinscher has been used in the police department for many years. It's an intimidating looking police dog breed. However, they are not trained to be aggressive. Rather they enjoy while doing their police work. Doberman is known to be courageous, intelligent, and beautiful.
They are primarily used to catch fleeing criminals by grabbing their arm and pulling them down. They have an athletic body which is perfect for doing this type of work.
Moreover, Doberman is very lean and swift. In fact, there are very few who could outrun this breed, particularly when they are after a suspect. However, they are also used as sniffers for detecting narcotics.
4. Labrador Retriever
The Labrador Retriever is basically a hunting dog that has transitioned to do police work. They are primarily used as bomb and narcotics detection dogs. They patrol harbors and airports with their handlers and make sure that no fishy stuff enters their countries.
Labradors are very fast, lean, and agile. They are also very sociable and intelligent. They love to interact with people and show a special knack for learning new things. Labradors are the smartest and easiest of dog breeds to train. They make an amazing K-9 officer.
3. Giant Schnauzer
The Giant Schnauzer is a large yet quite dog breed that is being used as K-9 officers for many years. However, they entered the profession much later than other dog breeds. These police dogs are very suspicious to strangers and have a tendency to be much aggressive.
They make an extraordinary tracker of suspects, bombs, missing persons, and narcotics. They are often used in search rescue because they are very relentless, loyal to the task, and unwilling to give up.
2. Rottweiler
The Rottweiler is a dog breed that is a perfect match for just any kind of police work. They are strong, alert, loyal, obedient, and love action. They always want to be in the middle of things.
A Rottweiler is mostly recruited in the teams of investigators to solve crimes, severe offense cases, and even drug trafficking. They are also trained to protect the policemen from any kind of danger.
A Rottweiler is an active dog, and their attention span is quite impressive. They show the ability to stay focused for longer periods of time.
1. German Shepherd
The German Shepherd is the most popular police dog breed in the world. That's why they feature at the number one spot in this list of best police dog breeds.
They are regarded as the number one K-9 officer breed in the world. The German Shepherds are fast, fearless, intelligent, smart and enthusiastic.
They are highly trainable and follow through on commands. They show the special ability to bring down suspects. Moreover, the German Shepherd is an amazing all-rounder in police work.
They can sniff out narcotics, cadavers, detect bombs, and are often used in search and rescue missions alongside other law enforcement units.
We hope that you enjoyed this list of best police dog breeds around the world. Do share your comments with us. We love to hear from you.
If you liked this Police Dog post, then please share it with your friends and loved ones.